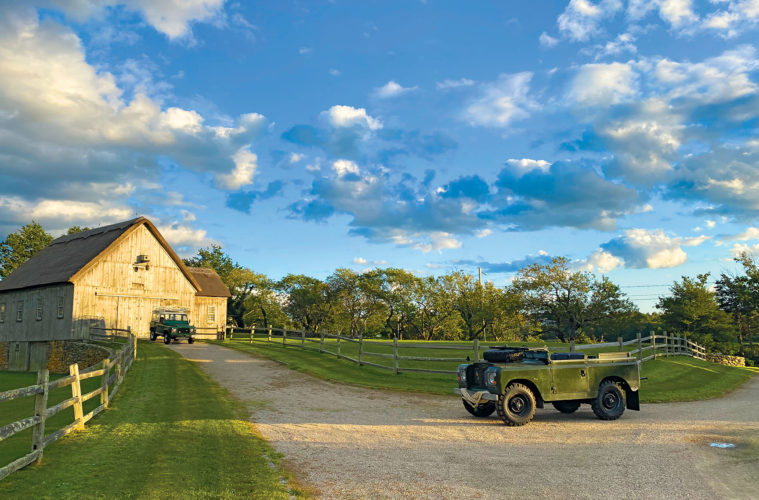 Cape Cod, Massachusetts, comprises a sandy spit that stretches into the mighty North Atlantic Ocean, surrounded on all sides by the sea. Each of the Cape's 15 towns is anchored in their English heritage; our ancestors named their towns after those "across the pond." It's easy to find narrow roads that divide fallow fields, thatch roof barns, and British livestock (Old Town Lane in Dennis Village, for example). I can't think of a more appropriate setting for owning a Land Rover stateside. Despite the shortcomings of our salty environment and the resulting oxidation, I've found the Land Rover to be the perfect vehicle to tour our sand bars.
Over the past few years, I've seen many more Series Land Rovers, along with a growing number of recently-imported Defenders. What makes the Series Land Rover the ideal Cape Cod car is that you can fold down the windscreen – for three seasons a year, I find an unreal amount of joy in driving with no windscreen protection.
My Land Rover ownership began with a '92 Range Rover Classic SWB that I absolutely adored. The previous owner had used it to explore the off-road sand beaches of Cape Cod Bay. This soon became evident as the frame turned to powder. The Range Rover and I shared some great years together though, and I'm hoping that one day my family can enjoy another (Hunter Green preferred).
Following the Classic, an '02 Discovery II SE7 stole (and eventually broke) my heart. The ultimate in comfort for my two-hour daily drive, I never had to worry about not making it home during snowstorms. Although economically the worst car to use for commuting, I loved the Disco. This was the Rover that turned me into a mechanic. I fixed/re-placed numerous parts in my quest to remedy the overheating engine. Ultimately, not even a head gasket replacement could repair what had already been broken – the cracked engine block. It only had 120,000 miles but we parted ways reluctantly while I transitioned to a more dependent/affordable/economical vehicle (aka a non-Land Rover).
Those few months without a Land Rover were dark. Our driveway was absent of oil and engine coolant. We had more money in our bank account and we were able to fit our two Japanese-made vehicles in the garage (like I said, a very dark time). In the following few years, my wife Meagan and I welcomed two amazing children into our lives (Asher 6, Reese 4), and "Winnie," a '69 Series IIA that came into our family via a friend who imported her from Princethorpe, a hamlet outside of Coventry, UK.
The previous owners had discovered her "retired" in an overgrown field and tracked down the owner, a local sheep farmer, from whom they procured Winnie for the price of a bottle of red wine.
In 2014, we paid more for Winnie than a bottle of vino, but she was still a great deal. Over the next few years, I spent a few hours tinkering here and there while juggling a demanding new career in law enforcement and raising our family. I had learned how to turn wrenches while working aboard several tall ships (Woods Hole, MA, and Rockland, ME) before working in mooring operations at the Woods Hole Oceanographic Institute. And another acquired skill set has been incredibly important as a Land Rover owner: the art of troubleshooting.
My love of Land Rovers has necessitated a growing collection of tools and handbooks. Our family's garage is now half devoted to the art of Land Rover ownership – filled to the brim with various spare parts, floors stained with rust, and an ever-present odor of petrol, gear oil, and IPA. A certified YouTube mechanic, I've been able to overcome most of my Rover's problems through various online bulletin boards, videos, and advice from Rovers North and articles in Rovers Magazine.
Although Winnie sat dormant while we figured out how to parent, I started up the @CapeCodRovers Instagram account. Admittedly, social networks have turned into mass advertising sites, but this account helped me reach out to so many Rover owners, many of whom call Cape Cod "home." In addition to our shared knowledge, we've created a good trading network that has proven useful over the past few years. These friends also provided me with that extra courage I needed to wake up Winnie for her first, multi-hour trip around Cape Cod.
I did a fair amount of preventative maintenance to lessen the odds of a failed trip; changed all the fluids, adjusted the brakes, and inflated the tires to equal pressure. I overhauled the ignition system and finally got around to swapping the dynamo for an alternator. An old Zarges aluminum case sat in my garage, a gift from a retired State Department friend who had done extensive work in reforestation efforts in Ethiopia. He often commented that the Department's use of Land Rovers was the most useful asset they had in-country. The case's engineering resembles that of our Series Land Rovers: incredibly simple aluminum construction, and smart design with near-endless uses. As Winnie typically goes topless from May to October, the case provides the only weathertight compartment. Packed with various tools and spare parts, it fits perfectly between the folded rear bench seats.
A windscreen-down trip around Cape Cod gives you a whole other perspective on driving. You. Are. Out. There. As a right-hand drive vehicle, I drive past pedestrians uncommonly close. Their initial amazement at Winnie is usually followed by a big smirk or a thumbs up. (Often, I get a "Hey, nice Jeep!" to which I roll my eyes.)
Did I mention any disadvantages? There is only one: the chance of getting hit by a June Bug or other piece of shrapnel. To date, I've been lucky. I may have swallowed a few flies, but none that required chewing. I always wear sunglasses to protect my eyes unless it's far too dark out. In those cases, it's best to just squint and pray that the overwhelming intensity of Winnie's headlights doesn't attract swarms of moths.
The scenic NNE-SSW trip from Dennis to Woods Hole took me on back roads through a handful of Cape Cod villages, each with its own unique traits. The 18th–19th-century homes of North Dennis and Yarmouthport turned into the old farms and grass runways of Marstons Mills. Here, the traffic became increasingly congested as I approached the busy rotary of Mashpee Commons and, eventually, entered the town of Falmouth. In addition to being home to the largest private oceanographic institution in the world (and the best), Woods Hole village is home to several other scientific schools and organizations, a Coast Guard station, and the Steamship Authority, which provides ferry service to Martha's Vineyard and Nantucket. Driving Woods Hole Road into the village, you see a wide range of ships: research vessels, a schooner or two, several "Island Class" Coast Guard Cutters, and a handful of fishing trawlers. Traffic came to a standstill as I approached the ferry terminal, so I took a series of side roads to park in a vacant lot to grab a bite to eat. The trip from Dennis Village to Woods Hole has been a success.
The return trip would take me along the numerous shore-side roads of the "south side" of the Cape. At times, I sat idling in traffic as beach-goers returned from the serenity of the rolling surf, allowing me to enjoy that distinctive Rover exhaust rattle and the scent of carbureted gas. With the windshield down, there was little to hide my smile. I headed north and eventually rejoined Route 6A (otherwise known as the "Old King's Highway") and made my way home.
At some point over a Rover owner's lifespan, we "evolve" from just looking at the parts in Rovers Magazine to actually reading the articles from beginning to end. These articles have pushed me to start dipping my toes in the water of Land Rover-based adventures. Sure, a multi-hour drive on paved side roads may not seem like much to most of you, but I like to think that any drive in a Series Rover is an adventure.
Next time the weather is warm and the rain clouds absent, consider lowering that windscreen. You may find some real joy (and hopefully, no June Bugs). //